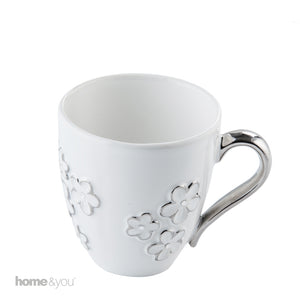 FLOSALIDO MUG
The Flosalido collection consist of a beautiful assortment of matching tableware items that are made of a high quality white dolomite with delicate silver flower accents. This elegant mug will make a stylish addition to any dinner or kitchen countertop. The Flosalido mug has beautiful embossed floral accents and a delicate silver handle.
Color: White with Silver Accents
Materials: Dolomite
Dimensions: 3.5 x 4.7 inches
Height: 4.33 inches
Product is NOT dishwasher safe.
Hand wash only. Avoid soaking.
DO NOT use in a microwave.
Find other Flosalido products HERE.
---
We Also Recommend
---