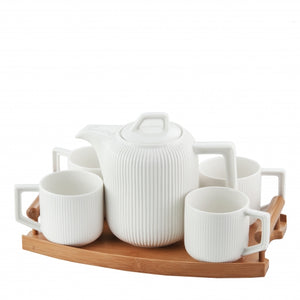 LINERS TEAPOT SET
The Liners teapot set exemplifies clean modern lines by neatly combining the timeless charm of natural wood and white ceramic. You'll find this high quality set irreplaceable at your next party. This product consists of a 34 fl.oz. teapot , four 8 fl.oz. cups and the wooden tray.
Color: White and Natural Wood
Materials: Ceramic / Wood
Capacity
- Teapot: 34 fl.oz.
- Cups: 8 fl.oz.
Dimensions: 7 x 7 inches
Height: 3.9 inches
Ceramic elements are dishwasher safe.
Wood tray should be washed by hand and air dried.
Find other Liners collection products HERE
---
We Also Recommend
---